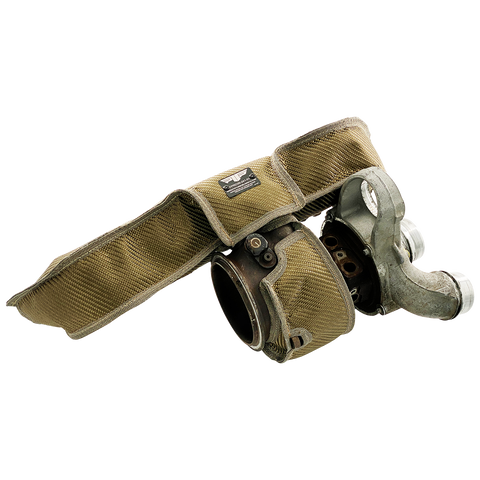 FPRO35-241-42
* May require removal of turbocharger for installation *

* Special Order Item - Lead time for this product is 3-4 weeks from order date *
The BMW B58 Lava Turbo/Manifold Blanket is designed to fit the 2015+ BMW B58 engine.

PTP Turbo Blankets isolate the heat produced by your turbocharger and manifold with the purpose of reducing turbo lag, cooler air intake temperatures, protecting and prolonging vital under hood components (up to 60% under hood heat reduction), and giving a boost in horsepower.
In keeping the exhaust gases within the turbocharger hot, turbocharger efficiency is improved. Also by keeping the heat of the exhaust gases contained within the hot side of the turbocharger and away from the cool side of the turbocharger and the intake path, more oxygen per unit volume reaches the engine, and thus, more power can be achieved.
The PTP Lava Turbo Blankets are constructed with an outer layer made from pulverized volcanic lava rock (Rated 1800°F Direct Heat / 2500°F Radiant Heat) formed into fabric and woven into a tight mesh weave, these turbo blankets are internally insulated with high temperature calcium magnesium silicate wool (Rated 1832°F Continuous / 2300°F Peak) overlaid with a high temperature stainless steel mesh for increased durability and improved thermal resistance. The Lava Turbo Blankets are designed to withstand the harshest of conditions.